MYTH No. 1 
Breastfeeding moms do not ovulate or get pregnant
While studies show that the majority of those who are fully or near fully breastfeeding up to six months, will not get pregnant before their first, post-partum period, up to 30% can and will – if they are not relying on additional protection. This means that if up to 30% of nursing mothers can experience a proper ovulation before their first menstrual bleed, then conception and pregnancy are possible outcomes. 
MYTH No. 2
"Full" breastfeeding is a fairly reliable method of birth control
Not necessarily; it depends on a more precise definition of breastfeeding and in what cultural context it is practiced. There are basically three types of breastfeeding: 
Ecological-traditional

breastfeeding refers to when the baby is physically attached to the mother and close to the breasts 24/7; 

Exclusive-full

breastfeeding relates to when a baby gets all nourishment from the mother but frequent stimulation of the breast is not practiced 24/7; and 

Cultural -partial

breastfeeding is when formula and supplements are introduced early, together with bottles and pacifiers. 
Only traditional breastfeeding can inhibit ovulation for an extended time (beyond 6 months and up to two years) because it is based on frequent and continuous stimulation of the breast. Non-western women in tribal societies practice ecological breastfeeding because it is culturally accepted and supported. Western mothers can fully breastfeed but their babies can sleep five or more hours straight through the night while the mother goes back to work and pumps milk. Full breastfeeding and frequent breastfeeding are physiologically different, and it is this difference that will impact the early or late return to fertility.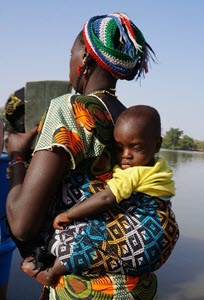 MYTH No. 3 
Breastfeeding women cannot know in advance when their fertility will resume
If you learn to observe, chart and interpret changes in your natural, cervical secretions and sensations it is very possible to know in advance if and when the body is trying to ovulate. Most but not all women who breastfeed frequently (every 2-4 hours, day and night) experience prolonged intervals (even months) of relative dryness and infertile secretions. Once they learn to accurately identify their infertile secretions (with a qualified teacher), then this information can be used as a contraceptive method. In approximately 95% of cases, secretion changes will also signal the return to fertility.  
MYTH No. 4 
The Lactational Amenorrhea Method (LAM) is 98% effective in preventing pregnancy if a woman is fully nursing up to six months, has no bleeding, and gives no supplements to her baby
LAM has been promoted for nearly 30 years around the world as an effective contraceptive method for breastfeeders. It is based on two things: a mother's behavior "(frequent" breastfeeding, not always defined in the same way in the literature) and an algorithm applied to the practice of frequent nursing. LAM is purported to carry a 98% effectiveness rate up to six months. 
Unfortunately, the method cannot predict the return of fertility (often before 6 months) nor can it guarantee equal results in all women because the physiology of breastfeeding is influenced not only by nursing behavior but also by other factors such as stress, overall health, nutritional status and metabolism. 
The method was tested primarily in developing countries, where breastfeeding is not only more culturally appropriate, but it is practiced in a way which enables extended and frequent stimulation of the breasts by the newborn. As a group, western women are not able to reap the contraceptive benefits of breastfeeding because they do not breastfeed long enough or frequently enough. 
Full breastfeeding is often confused with frequent/traditional breastfeeding. They are not the same. Even if a woman nurses round the clock and at high frequency, she has no guarantee that her first ovulation will be delayed for six months. Therefore the method is less reliable in western countries and should be greeted with caution. 
MYTH No. 5 
There are no effective, natural methods of contraception during breastfeeding
Just because you are breastfeeding does not mean you are always infertile. Eventually fertility will return and it is possible to ovulate and get pregnant even before the first period. While frequent breastfeeding can prolong the time of post-partum infertility, it cannot guarantee a contraceptive effect. 
The Billings Method was the first fertility awareness-based method to be researched and adapted for breastfeeders. Those who choose to learn how to observe, chart and interpret their secretion patterns can know their fertility status on a daily basis. Our natural secretions communicate if and when the body is trying to ovulate. This 'language' can be learned and practiced easily. Effectiveness is highest when learned with an experienced teacher, and remains in follow-up until after the first or second post-partum period resumes.
MYTH No. 6 
Progestin-only pills are just as effective as combined-pills (estrogen and progesterone) among breastfeeders
Progestin-only pills (POP's) are usually prescribed for breastfeeding moms and are taken daily without a break. Usually, these pills do not interfere with mood or with the quality and quantity of breast milk, even though some claim that it does interfere. Contrary to popular belief, these pills suppress ovulation in about 50% of the cases, so they are less effective than combined pills. POP's are known to cause amenorrhea (no periods) but they also increase the incidence of spotting and bleeding, which can be a nightmare for many, especially niddah-observant women. 
MYTH No. 7 
One of the main factors which delays ovulation during breastfeeding is the length of nursing time
It is not the length of time that a baby suckles at the breast, but the frequency of stimulation of the breast that affects the return to fertility. Every opportunity to stimulate the breast and suckle is what suppresses the hormones that cause ovulation. A one-minute 'sip' twice an hour is more effective than a twenty- minute feed every four hours, especially at night. Longer intervals between feeds will induce an earlier first ovulation. 
In traditional cultures where the baby is carried on a sling attached to the mother's body- a baby will suckle more frequently than when nursed according to a "schedule.", In traditional, tribal cultures, physical closeness leads to ongoing breast stimulation and this practice results in the natural spacing between births of two-to-three years, on average! In western cultures, it is rare for post-partum infertility to last beyond the one-year mark. 
MYTH No. 8 
All post-partum bleeding is menstrual bleeding
Bleeding experienced up to 2 ½ months post-partum in a fully breastfeeding woman is almost always related to the after-birth. It is not menstruation or the first period. This distinction is not easily recognized, causing many women concern and anxiety. If a second bleed occurs 4-6 weeks later, only then can it be assumed that actual menstruation has resumed.